Hi everyone, this week there will be a change of venue- for this week only we will be in The Church of the Holy Redeemer https://holyredeemeryork.com/find-us.
In addition to this there will be a change of time- 12:30-22:30. So you can have a lie in and stay gaming into the late evening, good for all you night owls out there. To get here you can drive, ample parking, the postcode is YO26 6AB for Sat Nav users, and here's a map:
The Number 5 and Number 10 First buses stop almost exactly opposite the Church Hall, just after the Ainsty. Ask for a ticket to the Ainsty when you get on if you're unsure. Timetables are here: https://www.firstgroup.com/york/plan-journey/timetables/?source_id=2&operator=29&page=1&redirect=no, both buses are pretty regular, and the number 5 runs very late as well.
As for food, whilst the lack of the Bar Convent means no delicious nachos, it does mean that you can eat and drink whatever you want on the premises. We have tea and coffee making facilities, which I'll remember to keep stocked, but if you don't want to bring your own food there are cafes and takeaways a couple of minutes up the road, and a Co-op and pub opposite. Feel free to bring food back with you to the hall, and if anybody wants to make and sell sweet things then feel free.
So that's this Saturday. 12:30 start in The Church of the Holy Redeemer. NOT the Bar Convent or St Chads.
Also, I've got quite a number of games from the Bar Convent collection, but I may be able to return to get a few more. If there's anything your desperate to play and want me to make sure I've got it (if possible) then let me know.
Also, whilst talking about changes of venues, I made a mistake last week. We are NOT in St Chads on the fifth Friday, but in the Bar Convent as normal. Sorry for any confusion caused. Don't forget about John's quadathalon, details here (again)
"We have a 5th Saturday BM this month on 29 April at the Bar Convent.  
John McCullough is offering to run a Quadtathalon from 1030-approx 1700 if at least 11 others contact him (

jjj_mccullough@yahoo.co.uk

) to enter (usual session fee only).  John's idea is to play 4 well-known, easy to learn & approx 90 min games to find the first BM Q Champ.  He suggests Alhambra, Kingsburg, Stone Age & Ticket to Ride but enough suggestions/votes for suitable alternatives might change that.  Please contact John asap if you wish to enter.  No need to know all 4 games, as they are easy to teach/learn."
Also gaming this Thursday in Travelling Man as usual, if you're free, why not turn up?
Recommendation of the week…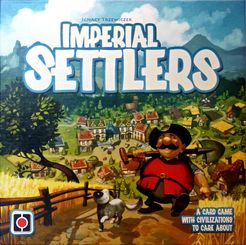 Imperial Settlers is a lovely tableau builder, in which by the end of the game you have your wonderful civilisation out in front of you. At the start of every round you gain cards, and these cards can either be built into buildings, turned into deals, or razed for an instant benefit. The first two will get you an engine up and running, but the last is important to be able to get resources to do the first. There are a general buildings which everyone can draw from and build, and faction specific buildings. Each faction differs with their faction specific buildings, as well as what they can store and what they can generate, and end up feeling different to play. Finally there is a small amount of combat, with the razing of others' buildings. Not as disastrous as it may sound to have your buildings razed, as you can use the foundations left behind to build better ones. Imperial Settlers plays up to 4 players in about 90 minutes, also we have seamlessly integrated the 'Why Can't We Be Friends' expansion for more player interaction.